31st Jan 2016: I believe in the fact that it only takes one person to bring a change and this belief was reinforced recently when Tarun Lakhwani from Omaxe The Nile RWA in Gurgaon contacted me for conducting a #laughteryoga session for the society residents on a Sunday morning. I was not very sure about his chosen day but what he shared next left me pleasantly surprised. A few fitness enthusiasts including Tarun himself from the Nile community have taken a step towards binding and bonding the society residents over some #health #happiness and #healing through an initiative titled, 'Nilegiri'.  Ofcourse, #Raahgiri immediately flashes in the mind but for sure, 'Nilegiri' has its own uniqueness. Tarun shared that specially going for #Raahgiri was not everyone's cup of tea and the RWA wanted to do something about bringing the Nile community together for a common purpose and what better than the purpose of health. Since then the journey to keeping fit as a community continues for the Nile residents.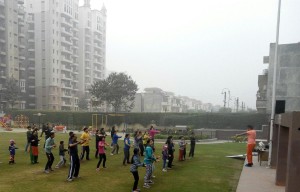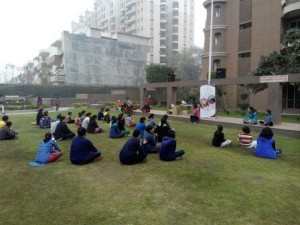 Nilegiri started about 6 weeks back in the society's beautifully maneuvered park on foggy, wintery mornings. Zumba, Yoga, Dance, Aerobics – You think of it and Tarun and his gang have successfully got the residents to do all of that. This last Sunday when I reached at 9 am not sure of how many people I may see, I was caught by surprise with a pretty number of around 75 residents. We beat the morning chill with Paul's #Zumba Session. I enjoyed every second of the session swirling and dancing to some groovy Pop, Bollywood and Arabic numbers. The energy in the air multiplied with kids, adults and even senior citizens joyfully trying to match to the steps of Paul's Zumba moves. 60 minutes fleeted in a jiffy with some great cardio work out. We all paused for a breather and I was cheerfully greeted by enthusiastic participants, this time few more in number (who were standing in their balconies curious to join the laughter session). And what followed next – 75 minutes of laughter, group exercises, a game of mindfulness and some singing and dancing. The entire park echoed with laughter and became even more vibrant with childlike playfulness of the participants. I could see everyone dropping their age, titles, health limitations only to work-out in togetherness for one purpose – Joy from within and without. The simulated laughter yoga exercises gradually stimulated laughter for the participants and gave them an opportunity to enjoy the yogic workout in a fun way. A rapid fire quiz saw some winners who happily walked away with their gifts and rejuvenated moods. My session ended with the happy dance which once again brought the young, old and the not so old to shake a leg or two in togetherness. 
Tarun and his team are all set to reverse the dropping health meters of the Nile residents due to lifestyle pressures and are an example of #change for themselves and for many others around them. #yogawithv thanks Tarun & the Omaxe The Nile community for putting up such a healthful and happy show with her. 
Stay Joyful!